Články a reportáže
Datum: 02.10.2008
| |
Přečt.: 6629x
|
Kom.: 5
|
Rub.:
Muzika
Chlebíčky od Bratří Ebenů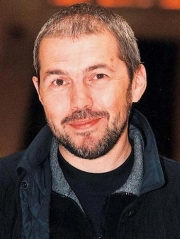 Jak nám chutnaly na koncertě v Ústí nad Labem
Jedním slovem. Výborně!
Znáte to. Jdete na koncert kapely, kterou léta znáte. Všechny jejich největší hity a hned zkraje vám kapela řekne, že vám přehraje celou novou desku.
Samozřejmě se nezřídka stává, že nová deska je nejslabší ze všech předešlých a tak čekáte až Vám zahrají ta vaše staré dobré pecky. Ty se to ale rozhodnně NESTALO. Nejenže nová deska je asi super (slyšel jsem ty songy jen jednou a to právě na tomto koncertě) a navíc návdavkem byly ke slyšení i starší perly. Z těch novějších mě fascinovala píseň Folkloreček což je po parodii na pány Nedvědy tentokráte parodie na Fleret a podobné bigbítově provedené moravské lidové melodie. Frontmen Marek dokonce doplnil zpěv i vkusným tanečkem což se opravdu málokdy vidí. Další velice zdařilé počiny bych asi jmenoval Houston, titulní Chlebíčky a Zprava dobrý.
Samozřejmě zazněly i starší kousky a Bratři Elbenové (to není překlep, Marek to říkal že se tak v Ústí jmenují) vybrali skutečně snad to nejlepší co znám. Hodně mě překvapila písnička Vidíš Vidíš, kterou Marek Eben zazpíval sám, ačkoliv to je ženský part Ivy Bittové. Zajímavý počin. Pobavilo mě i jevištní provedení hitu Já na tom dělám, kde opravdu kapela hrála na pilníky, kolejnice a pumpičku.
Když si k tomu všemu domyslíte inteligentní humor a charisma Marka Ebena tak si asi dovedete představit tu pohodu, jaká v nabitém sále vládla.
Pořád jsem nemohl pojmenovat, jak to na mě působilo. Až cestou domů mě napadlo, že ten koncert byl takový asi jako kdyby jste si doma uvařili čaj, zhasli a Bratři Ebenové vám zahráli ten koncert doma v obýváku. Takový to byl večer.
PS:Jen chlebíčky v bufetu neměli. Vlastně ani bufet tam nebyl. Inu Ústeckej nekulturní kulturák.