Články a reportáže
Datum: 13.10.2008
| |
Přečt.: 9091x
|
Kom.: 10
|
Rub.:
Muzika
Finále Děčínského Vrabce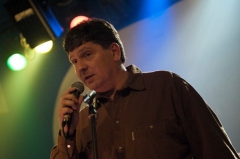 Jak to celé dopadlo?
Tak a je to.
První ročník novátorské ankety Děčínský Vrabec má své vítěze. Mnozí hodnotí, přemýšlejí. Muzikanti určitě klábosí po hospůdkách a probírají výsledky ze všech stran.
Na vyhlášení výsledků jsem se podívat nebyl, protože jsme byli na dovolené a tak mi nepřísluší hodnotit ten večírek. Z ohlasů na NotyDC to vypadá všelijak.
Nicméně ceny jsou rozdány a kategorie znají své vítěze i poražené. Trošku mě udivuje (a nejsem asi sám dle ohlasů na serveru) nechuť zveřejnit všechny výsledky.
Je to asi jako když se pojede závod a kromě tří či pěti prvních se ostatní nedozví, kolikátý doběhl, respektive, kdo ho předběhl a kdo zůstal ze jeho zády. No nic. Nepřísluší mi posuzovat rozhodnutí vyhlašovatelů soutěže ačkoliv si myslím své. Ale o to vlastně nejde.
Důležité je, že anketa proběhla a že se v Děčíně něco děje. Jiná města by mohla závidět, včetně Ústí. Také bych rád vyzdvihl fakt, že anketa byla vyhlášena napříč žánry, což je dle mého soudu super a výsledky tím nabyly na pestrosti.
Také bych chtěl poděkovat všem, kteří hlasovali a zejména těm, kteří podpořili v hlasování mě samého. Ještě jednou díky vám všem. Vážím si toho.
Pokud vás zajímá jak to celé dopadlo, zde je odkaz na výsledky:
PS: Omlouvám se Jirkovi Ryndovi za loupež fotografie z jeho serveru, snad mi to odpustí. :-)