Články a reportáže
Datum: 02.01.2009
| |
Přečt.: 20998x
|
Kom.: 15
|
Rub.:
Muzika

DVĚ DĚČÍNSKÉ NOCI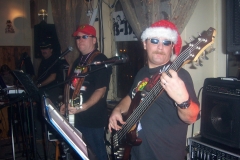 Jaký že byl konec roku?
Především díky za to, že jste přišli a že vás bylo tolik. Doufám, že jste si tancování v posledním večečeru loňského roku užili. Alespoň z pohledu z pódia to tak rozhodně vypadalo.
Děkuji všem, kteří mi nechali ochutnat své jednohubky a děkuji Lence, že nám poslala nějaké fotografie, protože na fotoaparát si nikdo z nás nevzpomněl. Takže díky ní k článku přikládám i malou fotogalerii.
Musím říct, že když jsme v půl čtvrté ráno konečně dobalili, byli jsme unavení na smrt. Přesto jsme ještě dokázali posedět v kruhu kapelním.
Původně jsem se domníval, že hned ráno až se vyspíme vyrazíme domů, ale Radek se domníval, že by potřeboval naší aparaturu na další akci a tak jsme se nechali přemluvit.
Tedy odpoledne jsme znovu rozbalili aparaturu a s Honzou jsme se dobrovolně ujali role zvukaře a osvětlovače a přísahali, že nás nikdo nedonutí vzít do ruky jakýkoliv nástroj.
Tak jsme tedy vyčkávali příchodu dalších muzikantů. Bohužel muzikantů dorazilo málo. Přesněji jen Petr Bříško a Wydle. Musím říct, že zejména Wydle projevili vytrvalost a zahráli nějaké to kolečko. Ke cti Pupíka patří, že se postaral o začátek a konec večera. Akci zahájil jako sólista na jevišti a akci dokončil u piána na druhé straně lokálu, které si dokonce před časem naladil. Pozoruhodné, že?
Ještě pozoruhodnější byla předkapela, vlastně předmuzikant, a to nový děčínský rocker s baskytarou RADEK FLACHS (viz připojené obrázky).
Ačkoli tedy hudby bylo poněkud méně než jiné ročníky, stejně akce posloužila svému účelu. Muzikanti si popovídali a posdělovali různé strašidelné a úsměvné historky ze svého celoročního pojíždění a hraní.
Takže nezbývá než popřát všem ať jim to hraje a těšit se na příští rok, kdy se nás snad sejde zase o něco víc.