Články a reportáže
Datum: 15.06.2009
| |
Přečt.: 32805x
|
Kom.: 93
|
Rub.:
Blbiny
V Bynově chcípnul pes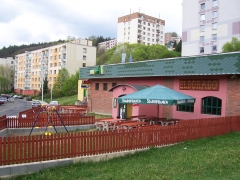 Na téma Eldorádo
Potkal jsem jednou Děčíňáka Bynováka. Bynováci jsou ty zvláštní děčíňáci, kteří jsou za vodou. Tedy ne, že by byli v balíku a překypovali optimismem a sociálními jistotami, ale spíš že bydlí na druhé straně řeky a to na té, kde se toho zase až tolik neděje. Navíc je to daleko od centra a autobusem to tam nějaký čas trvá. Ten chlapík zpoza vody mi povídá: "Chcípnul tady pes!" Zeptal jsem se ho tedy: "Kterej pes?". On povídá: " Nic se tady něděje, je tady šest hospod a vůbec nic se v nich neděje." Pak si postesknul, že jinde se mají lépe. Rozmazleným středoděčíňanům se nabízí na Poště každou sobotu muzika a v Bynově chcíplej pes.
Pak se stalo něco, co nikdo nečekal. Najednou se začalo hrát v Eldoradu. Bynováci pookřeli a po nějaké době si hospůdku oblíbili a začali se chodit bavit. I můj Bynovák měl radost, chodil tančit, popíjet a bavit se s přáteli a už nemusel sedět s různými existencemi u hracích automatů a znuděně koukat na dno sklenice. Byly to dobré časy.
Pak se opět stalo co nikdo nečekal. Obyvatelé domu naproti hospůdce sepsali petici, protože je muzika a provoz té hospůdky obtěžoval. Tak dlouho se paktovali, sepisovali a snažili se, až se v milé hospůdce dohrálo. Určitě k tomu měli své dobré důvody, a třeba se stalo i něco ošklivého o čem já nevím. Třeba se nějací výrostci poprali před hospodou, rozbili něco, rušili noční klid, nablinkali někomu za stěrače či tak něco takového. Možná, že kdyby byl v hospodě veliký Drtikol a každého, kdo zazlobí nebo přebere, chytil za límec, mohlo se lecčemus předejít. Ale pozdě Bycha po Bynově honit.
Klid je klid. Jenže to je také jen jedna stránka věci. Všechno se nechá nějak asi řešit, ale já teď nevím co řeknu Děčíňákovi Bynovákovi, až ho potkám a on zkonstatuje, že v Bynově zase chcípnul pes. Možná ho polituju. Možná mu poradím ať se přestěhuje mezi středoděčíňáky. Možná mu řeknu: "Dobře Vám tak, poděkuj svým Bynovákům."Fakt tedy nevím… Spíš se tak trochu modlím, ať ho raději nepotkám.