Články a reportáže
Datum: 27.05.2013
| |
Přečt.: 29452x
|
Hodn.: 4,00 z 5
|
Kom.: 108
|
Rub.:
Blbiny
O šašcích a tak...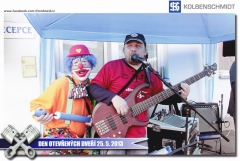 Tak.... a ruku na srdce!
    Kdy jste naposledy viděli živého šaška, klauna, Pierota?
Šašků máme zdá se na rozdávání, stačí si pustit televizní noviny, ale těch opravdových nefalšovaných, pozitivních klaunů je málo. Byla by to věčná škoda, kdyby to bylo řemeslo na vyhynutí. Bolek Polívka s Petrem Hapkou kdysi napsali nesmírně trefnou a pravdivou písničku.
Koukněte na toho fintila,
pod krkrm žlutého motýla,
zelenej klobouček do týla,
šoupne si na holou pleš....
... kdo by to neznal?
O to víc nás potěšilo při poslední akci (Den otevřených dveří KS Kolbenschmidt a.s.), že jsme ho tam potkali. Zvláštní je, jak to máme všichni zakořeněné z dětství. Jen ho spatříte, vyloudí vám to na tváři podvědomý úsměv. Tedy chvála šaškovskému řemeslu.
    Usmívají se i když jsou nevyspalí a bolí je hlava, nebo žaludek. Někdy v tom je vidno paralelu s muzikantským fungováním. Teky se smějeme, i když nemáme náladu, máme kocovinu nemáme peníze atd. Prostě šou je šou!
   K přiložené fotečce musím poťouchle podotknout, že jsem Honzu mockrát varoval, aby tolik neposkakoval a neblbnul s tou basou. Asi není náhoda, že si mistr smíchu vybral ke společné fotografii právě jeho. Inu, vrána k vráně sedá. Ovšem i za těchto okolností stále platí pravda pana Polívky:
Ptám se však tebe náš osude,
co bude až tady nebude,
co bude až tady nebude,
dojemně pitomá šou?
Amen.