Články a reportáže
Datum: 05.08.2019
| |
Přečt.: 15910x
|
Hodn.: 3,00 z 5
|
Kom.: 734
|
Rub.:
Blbiny
Inu o té ekologii..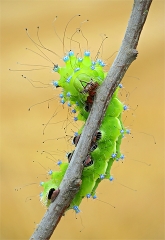 Tak tedy ekologie dnes. To asi kousnu do hořkého jablíčka.
To je téma tak trochu na diskusi nebo tak trochu na vraždu.
Nějak tomu úplně přesně nerozumím, co je vlastně vpořádku.
Někdy mi připadá, že se dělá ta slavná ekologie jen jako.
   Příklad číslo jedna:
   Mám služební auto. Diessel. Leju do něj kromě nafty i AdBlue.
Je to jistě dobře vymyšlené a propočítané. Nafta se stane milosrdnějším palivem.
Někdo si jistě odnese něco jako cenu na nejzelenější nápad. Říkejme tomu třeba Zelený Králík. Ale proč se tedy tahle úžasnost prodává v plastových obalech?
Kdyby se to tankovalo jako palivo, tak to pochopím, ale takhle produkujeme zase jen cosi, co
má poločas rozpadu více než jen jedno století. I sám Zelený Králík by si hlavu ukroutil ve své zelené králíkárně.
  Příklad číslo dvě:
  Mám služební auto (to samé). Na každé křižovatce chcípne (pokud ten vynález nevypnu, hned jak nastartuju)
a jakmile šlápnu na spojku, motor znova nastartuje. Jistě ale tím ušetří mnoho emisí, ale taky
odejde víc baterií, které tím kolosálním dvoulitrem musí otočit. Kolik stojí likvidace těch baterek už nějak uniká. Výrobci motorů by mi ještě jistě dali do ruky i jiné trumfy.
Když to takhle bude používat někdo, kdo jezdí jen po Praze, tak ta baterka musí jít brzy do kytek. Sorry Zelený Králíku.
   Příklad číslo tři:
   Třídíme odpad. Krása. Už jsme si na to zvykli a díky Bohu za to, ale.
Kde je nějaké opatření, aby výrobci dělali obaly jen tak nutně velké, jako je zboží?
Proč když si koupím paměťovou kartu, nebo něco podobného, dostanu obal 100 x větší a těžší, než je vlastní produkt? Proč sušenka, v rámci toho, aby obstála konkurenci, má dvakrát větší obal než vlastně je sama samotná ve své sušenkové kráse? Zelený Králík získává nezelenou králíkárnu o stonásobném objemu než je on sám i se svojí běžnou králíkárnou.
   Někdy mi připadá, že děláme ekologii pro ekologii a vlastně je to nejspíš i dobrý byznys.
Necháváme občanstvo třídit odpad a jednoduchá řešení nám mnohdy unikají.
Parkoviště u Hyper-super-ultra-mega-marketů jsou horké jako pec, ale my máme sluneční panely na zemědělské půdě. Kvůli broučkovi Pepíčkovi nechceme zbudovat vodní dílo na Labi, které by mohlo ušetřit naše ovzduší od kamionů. Kupujeme levné produkty v marketech, dovážené z druhé strany Evropy, namísto toho, aby jsme tam dodali ty vlastní.

Tam kde je dobrý byznys, ekologie jakoby zmizela. Že? Co ty na to Králíku?
Budeme obdivovat Greenpeace za odvážné činy, ale pravá podstata věcí, jako by nám unikala.  Odkláníme se od jaderné energie (Německo) a vzýváme elektromobily namísto spalovacích motorů (taktéž vize Německých vývojářů). Takže namísto ropy budeme spalovat uhlí, protože jádro je nebezpečné. Budeme vymýšlet větší a větší baterie, které se
budou hůře a hůře likvidovat. Ale to je jedno. Jen ať obyvatelstvo třídí plechovku od CocaColy od plastového dudlíku. Hlavně ať se kola spotřebního průmyslu otáčí. A Wolksvagen, BMW a Mercedes jsou v módním trendu Zelených Králíků.
   Mimochodem. Měl jsem tchána a ten měl na chalupě fůru starých věcí. Sekačka na trávu vyrobená odhadem v roce 1975 vydržela 45 let. Až jednou doslouží, tak doslouží. Ekologická zátěž s ohledem na odsloužené roky je nulová. Lednice Calex mívala životnost 20 let. Dnešní tak asi půlku, když jim budu fandit. Německá pračka Miele běhala 20 let.
Kde tedy je ta ekologie, když všechny produkty se vyrábějí na životnost dva roky a kousek?
S prominutím, montáž "Kurvítek" do průmyslového zboží je naprostý jed pro Zeleného Králíka. (Pokud tedy nedostal cenu Zeleného Králíka za zelené činy, které nevidí výše popsané nepodstatnosti).
   A teď jsme u jádra Pudla. Žijeme pro spotřebu a žijeme konzummně. Ne snad proto, že bychom tak úprorně žít chtěli, ale proto, že nás tak obchodně-průmyslově-ekonomická příšera nutí. Když se něco prostě rozbije, koupíme něco jiného.
Něco lepšího, co za dva roky stejně vyhodíme. Něco jiného, modernějšího, zpola plastového.
Ale budeme se chovat ekologicky. Budeme přemýšlet, zda postavit dálnici tam, kde žije Housenka Karolínka zelenohá, budeme krmit auta AdBlue, budeme startovat na každé křižovatce, budeme kupovat titěrnou věc v obrovském plastovém obalu a v podstatě nám smysl uniká.
   Přesněji, nám možná ne, ale těm co s tím mohou něco udělat zjevně ano.
Sorry Zelený Králíku, ale jsi jen šidítko pro populaci. Ti opravdoví Zelení Králíci jsou jen obrovský byznys!

  PS: Tím se možná vysvětluje, proč je Housenka Karolínka trošku mimo rámec mého zájmu. :-) Odpusť zelenonohá krasavice.