Články a reportáže
Datum: 07.04.2007
| |
Přečt.: 7107x
|
Kom.: 8
|
Rub.:
Blbiny
Když se zlobí volty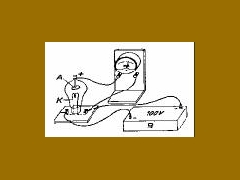 Hororovité story se šťastným koncem s velkým poděkováním Milanovi Volfovi. Tak jsme tedy na velký pátek hráli na Kocandě. Moc jsem se na to těšil. Připravil jsem se doma řádně. Rukávem jsem otřel prach z kytary. Vysypal peněženku na stůl a našel dvě poslední trsátka. Posbíral po bytě všechny kabely. Natankoval jsem Natural do Bobeše. Zavolal Pepovi, jestli je všechno v pořádku. Odjel jsem do Děčína. Vyndal věci z auta, dal jsem si pivko a pak už jako normálně. Jožin přijel tak jsme vyndali všechno z auta. Postavili zapojili a zapli a............... a nic! Zesilovač prostě nenaskočil. Ani po pěti zapnutích, pěti kletbách a několika ostrých slov, za které by se nemuselo stydět královské námořnictvo, nic! Nic, nic, nic. Zelená kontrolka prostě ignorovala veškeré naše verbální úsilí. Nezbylo tedy než zvednout mobil a půl hodiny před začátkem tancovačky shánět po spřátelených muzikantech zesilovač. Díky velikonočnímu víkendu byli samozřejmě všichni v čudu a musím poděkovat všem, kteří mi chtěli pomoct a buď by to bylo hodně kostrbaté anebo prostě nemohli, protože byli někde daleko anebo třeba nemocní. I tak díky Vám páni muzikanti, kteří jste mě nechtěli nechat ve štychu. Kdyby taková solidarita panovala na politické scéně, panečku, to by byla paráda. Nakonec nejschůdnějsí cesta byla nabídka Milana Volfa ( znáte z MM-TOPu), takže stačilo naskočit do auta, ujet půl kilometru naložit bedny ( aktivní), odvézt na Kocandu, zapojit a hrát. Sotva jsme to udělali a začli, tak Pepa mimoděk, snad z nostalgie, zavadil o vypínač našeho zesilovače, který okamžitě naskočil a hrozně se divil, že na něj nehrajeme. V ten okamžik jsem si všimnul, že mi občas nesvítí display na kytarovém kombu a uvědomil jsem si, že jedna z aktivních beden také naskočila až napodruhé. Tedy: něco zvláštního se dělo asi v zásuvkách nebo v elektrárnách :-). Nicméně jsme celou tacovačku, která díky těmto legráckám začla o celých sedm minut později, jsme odehráli na Milanův aparát. Takže nakonec všechno dobře dopadlo. Chtěl bych moc Milanovi poděkovat za cosi, co se dneska moc nenosí. Pomoct někomu, jen z čisté kolegiality, bez keců zadarmo a hlavně hned. Tedy ještě jednou velké DÍKY. Když všechno dobře dopadlo a po půlnoci jsem nasedl do auta, odešla levá žárovka. Asi aby těch šprýmů nebylo málo. Tak jsem jí vyměnil, a když jsem jí házel do kontejneru, zamyslel jsem se nad tím proč Edison, Tesla, Kaplan a podobní nemají rádi velikonoce. Nevíte to někdo náhodou?
Nejbližší akce

27.04.2019
BAR U PRINCE - Děčín
Než budete na čarodějnicích křepčit kolem ohňů, přijďte potrénovat. Začátek ve 20:00.

30.04.2019
PÁLENÍ ČARODĚJNIC VE SVÁDOVĚ 2019
Pčed Restaurací koruna od 18:00 hod.

17.05.2019
Hospůdka Pivo Studené, Březiny
Hurá na hřiště za muzikou.