Články a reportáže
Datum: 09.12.2007
| |
Přečt.: 10647x
|
Kom.: 14
|
Rub.:
Blbiny
Hvězdy a hvězdičky v masomlýnku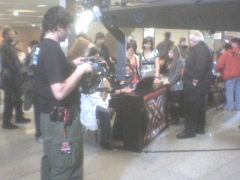 Jak jsem doprovázel přítele na casting.
Poslední listopadový pátek jsem doprovázel svého přítele na casting jedné megasouutěžě jedné megatelevize.
Vyjeli jsme ráno hnedle v šest a parkování u Kongresového Centra se nám zkraje jevilo jako větší oříšek než celý casting.
Pak jsme se vydali hledat vchod číslo pět, který jsme dostali v e-mailových instrukcích, abychom nakonec pochopili, že máme být u vchodu číslo deset. Vskutku dobrá finta jak odreagovat ztrémované účastníky.
Nakonec jsme se přiřadili k hloučku asi dvou set lidí, kteří již stepovali u vchodu číslo deset. Všude kolem nás se plížili zákeřní kameramani se zákeřnými pomocníky s hlukovými mikrofony na dlouhých násadách, kteří lovili rozhovory od různých týpků, kteří se k tomu uvolili.
Za chvíli se vynořil Leoš Mareš a hecoval už asi třistahlavou saň aby zamávala do kamery a zahulákala dle představ nespokojeného režiséra. Jeho nespokojenst tipuji protože to saň s hlavami třistajedna a třistadva ( to jako s námi dvěma) opakovala asi osmkrát. To všechno snímala obludná kamera, která pojížděla nad hlavami všech nervózních účastníků.
Pak se otevřela vrátka a kolem ochranky, která všechny prošacovala zda nemají yperit, brokovnici nebo nedejbože videokameru, se třistahlavá obluda začala přelévat do vestibulu.
Tam všichni vyplnily dotazník aby mohli jejich ksichty býti vysílány v megatelevizi a šlo se čekat na vlastní zkoušku ohněm.
Kolega byl opatřen číslem, vyfotografován jako zločinec a my jsme si konečně oddychli, protože hodina a půl v mačkajícím se davu nám rozhodně stačila. Tlačili se na nás chlapi, ženy, maminky s dcerami. No děs. Kdejakej uchyl by si to jistě užil.
Pak ve vestibulu spustil klavírista, který neohroženě valil hit za hitem a čekající hvězdy se mohly rozezpívat. Pak už je lovily mladé dívčiny, které je dle čísel odesílaly po pohyblivých schodech do prvního patra. Tam každý dostal několik sekund, aby předvedl vše, co se za celý dosavadní život naučil a posléze zase druhou stranou po druhých schodech se zdrcení, nevybraní nešťastníci vraceli dolů. Ze všeho nejvíc se to podobalo scéně z filmu The Wall od Pink Floyd, kde mládež odevzdaně nastupovala do megamlýnku na maso.
Pak jsme už jen automatickými dveřmi byli vyplivnuti zpět do reality lidí, co musí ráno vstávat do práce. Kolega tedy nebude hvězdou a já nebudu manažerem, jak jsem se těšil.
Upřímně stejně obdivuji ty tisíce lidí, kteří se toho všeho zúčastnili. A s vědomím šance 1 : 160 tohle všechno postoupili. Pro mě jsou hrdinové úplně všichni.