Články a reportáže
Datum: 03.01.2008
| |
Přečt.: 6603x
|
Kom.: 7
|
Rub.:
Blbiny

Vynalézavost muzikantů Pražských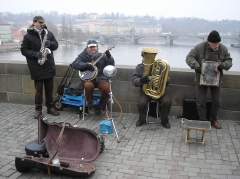 Aneb, mobilní cokoliv Zavítali jsem mezi svátky do Stověžaté matičky a ta se nám kromě jiných zajímavostí odvděčila pěknám mrazem.
Mimo jiné jsme se vydali i na krátkou procházku po Karlově Mostě a já jsem neodolal, abych se s vámi o něco málo nerozdělil.
O tom, že tady pouliční umění kvete a kšeftíky asi taky, není jistě pochyb, ale já se na to tentokrát zaměřil z té muzikantsko-technické stránky.
Na obrázku č.1 je vidět jakýsi děda hrající na zajímavý nástroj. U strýčka Rolanda či tetičky Yamahy by nejspíš zírali na tento důmyslný workstation. Až budu jednou dětem vysvětlovat co je sekvencer, zavedu je sem. Jak krásně to funguje. Bicí, varhánky, činel i bass, panečku. Co je ovšem paráda, vše na ruční pohon, bez kabelů a MIDI. Jen by mě zajímalo jak by na to zněl třeba Tarzan Boy, to by pak byl teprve ten správný nářez.
Jediné na co jsem nepřišel je, k čemu slouží ta opička vlevo. Třeba zkutečně zpívá Tarzana, hodíte-li jí pětku. Kdo ví?
Druhý vynález banjisty na obrázku č.2, jinak velice příjemné partičky, mě ovšem zaujal ještě o něco více. Jeho důmyslný propan-butanový ohřívač prstů je prostě nepřekonatelný. Hned jak potkám Malinu, musím mu o něm říct. Takže kolegové muzikanti. Nezoufejte až dojde proud a bude kosa. Všechno jde, když se chce! Alespoň v Praze ano!
Nejbližší akce

19.04.2019
Hospůdka Pivo Studené, Březiny
Krásná rodinná hospůdka na hřišti v Březinách. Přijďte si večer zařádit.

20.04.2019
DALIBORKA - Na poslední chvilku!
Přátelé, neplánovaně na Daliborce už od 19:00.

27.04.2019
BAR U PRINCE - Děčín
Než budete na čarodějnicích křepčit kolem ohňů, přijďte potrénovat. Začátek ve 20:00.