Články a reportáže
Datum: 08.06.2008
| |
Přečt.: 25557x
|
Kom.: 77
|
Rub.:
Blbiny
B-BAND V LUCERNĚ!!!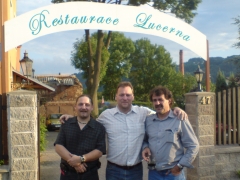 reportáž
Tak jsme se konečně dočkali.
Po celé plejádě slavných jmen jsme ze zařadili hned za Karla Gotta, Helenu Vondráčkovou či jiné celebrity a koncertovali jsme v Lucerně.
Trošku nás překvapilo, že nás satelitní navigace zavedla do Nebočad. Doposud jsem si myslel, že ta slavná Lucerna je v Praze. Nejvíc zklamanej byl Honza, který si myslel že dojede z Jarova tramvají. Omyl.
Další záhada pro mě byla, jak se tam mohly vejít ty stovky lidí, hlavně na vánoční Gottovy koncerty. Kdyby mu z každé strany mikrofonu dali jeden stromeček, byť z umělé hmoty, už by se mu tam nevešla kapela. Asi to všechno hráli z playbacku. To je jasný.
Také mě překvapilo, že tam pobíhala ta hezká holka v bílých šatech a všichni se kolem ní točili a pořád jí gratulovali. Možná, že tam chodí často a tak je tam jako vážená fanynka. Vondráčková na ní určitě musela žárlit!
Také bylo divné, že tam krájeli dort a pořád něco pojídali a popíjeli. Nicméně nám tam bylo fain.
No kdyby jste se chtěli podívat do Lucerny v Nebočadech, tak tam asi B-Band neuslyšíte, protože se tam normálně nehraje, jak jsme zjistili. Ale uslyšíte na zahrádce fontánu a to v žádné jiné hospodě v DC, pokud vím, není.
Ale řeknu Vám jedno. Myslel jsem si, že až budu hrát v té vysněné Lucerně, že to bude větší akce. Prostě klasická Pražská nafouklá bublina!
TAK!