Články a reportáže
Datum: 15.02.2009
| |
Přečt.: 30576x
|
Kom.: 79
|
Rub.:
Různé
Bohové hokej nehrají a ....ty další pod kopcem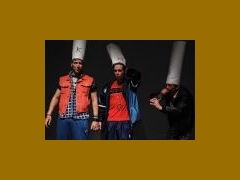 Pozvánka do Činoheráku
Do Činoherního Klubu chodíme docela pravidelně. Jednak to máme hnedle pod kopcem a jednak je opravdu na co se chodit dívat.
Nechci se rozepisovat o tom co jsme kdy viděli a co se nám líbilo, či nelíbilo. Dalo by se to vyjádřit asi takhle. Je to taková přepestrost, že člověk opravdu nikdy neví na co že to vlastně jde. Kupodivu jsme se ještě nezklamali. Snad kromě jediného představení, které nám tak zcela nesedlo.
Nejsme ani znalci divadla aby nám příslušelo tady hodotit jednotlivá představení.
Proč to tedy vlastně píšu?
Napadlo mě, že by taková malá pozvánka trošku možná neuškodila ani na těchto stránkách a tak bych jen rád upozornil na dva kusy, které by jste si neměli nechat ujít. Pokud chcete být trošku šokováni a vidět tak trochu jiné, akčnější a dynamičtější divadlo,než na které jste zvyklí, tak běžte na
Klub rváčů
. Je to opravdu velice zvláštní a strhující představení. Pokud se chcete opravdu dobře zasmát tak si nenechte ujít
Bohové hokej nehrají
. Příběh sice není až tak úplně veselý spíš naopak takové smutné zrcadlo, ale můžete si být jistí, že vás i tak bude bolet bránice.
Je mi jasné, že na tyhle mé rady asi hned tak nikdo nedá, ale zkuste se juknout na následující odkaz. Ukázka z posledně jmenovaného titulu to sama za sebe řekne mnohem lépe než já, kdybych to tady opěvoval na tři stránky.
Takže zkuste se juknout třeba sem