Články a reportáže
Datum: 02.07.2009
| |
Přečt.: 27669x
|
Hodn.: 5,00 z 5
|
Kom.: 26
|
Rub.:
Různé
Obchodní centrum Forum ala Hvězdné války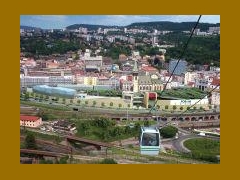 Jak to tedy nakonec bude vypadat
Tak Vám nevím.
Když jesm viděl poprvé vizualizaci obchodního centra Forum, které vyrůstá vedle Kostela nanebevzetí panny Marie v Ústí nad Labem, tak mě to docela nadchlo.
Obrázek, který simuloval pohled z Větruše asocioval zajímavou stavbu, která mi vcelku zapadala do lokality. kam je zasazena.
Teď ale když projíždím kolem a vidím jak kostelík se šikmou věží, zmizel za betonovými bloky a Forum roste a roste, tak mi to celé začíná připadat jako monstrum, za které by se nestyděli ani autoři Hvězdných válek.
Asi je to tím, že pohledem z Větruše je krásný průzor na zmíněný kostelík, a pohledem z centra odkudkoliv už není žádná šikmá věž nikde vidět.
Snad to nakonec nebude tak ošklivé, jak to vypadá teď v době zrodu. Třeba to napraví lanovka na Větruši, pokud Větruše do té doby nespadne a pokud tam někdo bude provozovat nějakou rozumnou hospodu za rozumné ceny, za rozumný nájem. Třeba bude vozit ústečáky za zelení, které ve městě není a nebude.
Možná ještě svůj názor změním, třeba to opravdu nakonec bude pěkné, ale čím dál tím víc začínám mít pocit, že obludné tržiště vystavěné v dobách hlubokého míru, nahradí ještě obludnější betonový blázinec, který bude vyšší než Cheopsova pyramida a betonovější než Černobylský sarkofág. Fuj! Tedy zatím fuj!