Články a reportáže
Datum: 19.12.2017
| |
Přečt.: 85382x
|
Hodn.: 4,78 z 5
|
Kom.: 1 851
|
Rub.:
Různé
Jeden vánoční příběh, na který nezapomenu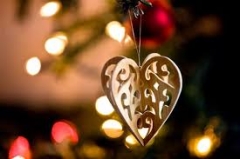 Blíží se Vánoce, čas klidu a míru, dárků a spočinutí všech v rodinném kruhu svých nejbližších.
Povím Vám dnes tedy něco, o jednom šťastném štědrém večeru, na který nikdy nezapomenu.
Bylo to v roce 1988. Já jsem byl na vojně, můj brácha bydlel ve Františkovch Lázních, táta byl na půlroční pracovní cestě v Hamburku a maminka byla doma.
  Blížil se štědrý den a táta nemohl přijet domů, já jsem nedostal opušťák  a brácha zval mámu k sobě do Františkových Lázní na štědrý večer. Maminka nechtěla. Dokonce odmítla i pozvání od svých sester, aby štědrý den strávila u nich. Prostě jim řekla, že si udělá salát a řízek, ozdobí stromeček a bude doma, vědoma si toho, že jí tam bude hrozně smutno. Byla moc statečná.
  Zafungovalo ale něco, co zní jako malý vánoční zázrak. Já jsem dostal opušťák a přijel jsem
na vánoce ráno nočním vlakem z Popradu.  Ani jsem domů nevolal, chtěl jsem jí překvapit.
Když jsem přijel domů, tak táta spal v ložnici. Nějak to prostě zařídil a přijel také nočním vlakem z Hamburku domů, pár hodin přede mnou. Dopoledne přijel brácha.
  Maminka nějakým zázrakem ráno dokoupila maso na řízky a večer jsme byli všichni spolu u večeře. Možná že brácha odjel ještě domů na druhou večeři, to už si nepamatuji přesně. Neměli jsme nikdo žádné dárky a přesto to byly pro mojí maminku ty nejkrásnější vánoce. Měla nás totiž všechny pohromadě.
Tolik moje vzpomínka, na kterou si vzpomenu každé vánoce.
  Ono to možná vypadá mnohdy jako klišé, ale ono je to opravdu o tom, být s těmi blízkými...
Přeji Vám všem krásné vánoce.