Články a reportáže
Datum: 08.07.2019
| |
Přečt.: 5019x
|
Hodn.: 5,00 z 5
|
Kom.: 23
|
Rub.:
Různé
Tentokráte o mně...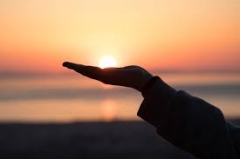 Tak jo.
  Dnes udělám vyjímku a napíšu něco o svých pocitech.
Mnozí víte, že v poslední době se v mém životě mnohé změnilo.
Prošel jsem kotrmelcem velkého rozsahu a mohlo to dopadnout všelijak.
V mnohém mi to bylo zkušeností, v mnohém mě to zranilo a v mnohém mě to změnilo.
Ne. To ale to není téma tohoto dnešního článku.
Téma je jiné...
  Nazvěme to například "minimalizace života" nebo třeba "základní kostička všeho".
Každý už jistě zažil nějaký otřes, událost, která ho poslala k zemi. Něco co,
nelze čekat a o to těžší je tomu čelit. Událost, která nikdy nevzejde od lidí,
kterým nevěříte, přide ze strany, o které nepochybujete. O to méně je na to každý připraven.
Sbíráte se ze země, chytáte se stébel, bráníte se uvěřit, ale .. je to tak.
Nedá se to změnit ani ovlivnit. To je řekněme fáze prvotního zoufalství.
Přirozeně každý začne pitvat sám sebe. Sám sobě patologem nad sebou samým.
Hledání chyb, pochybnosti, pohrdání sama sebou a striktní zákaz cokoli plánovat do budoucna. Prošel jsem si to a bylo to dost hnusný.
Ale ani to, není téma dnešního článku.
  Tématem jsou lidé okolo. A teď už to bude jen a jen o mně a o nich.
Zásadní zjištění je to, kdo je opravdu pro mě v životě důležitý a kdo ne.
Nečekejte jména. (lovci senzací už nemusí číst dále).
Naznačím ale:
  Zatím co někdo by neuronil jeninnou slzu, někdo by plakal perly! Moc děkuji!
Zatím co spousta přátel se mnou soucítilo, jen několik z nich tvoří svět, ve kterém je mi dobře. Svět, ve kterém, jsem schopen zapomenout na vše a přijímat jejich energii. ( a kdykoliv jí opětovat). Rodina je největší dar a já vím, že při mě všichni stáli po celou dobu.
Měla by to být přirozenost, ale mnohdy to tak není. (U nás ano... Maminka, Táta a brácha jsou tam, kde jsou a já jsem všem neskutečně vděčný).
Moje děti, koťátka moje. Nevím jestli jsem byl vždy ideáním tátou, ale dám život, za každé z nich. Čili je to prostě jednoduché, existuje opravdu jen malá hrstka lidí, kteří tvoří základ mého světa.
  Je úplně jedno kolik mám přátel, které mám samozřejmě také moc rád a vážím si jich, ale
když odpočítám, děti, rodinu a Lucy (která plakala perly), tak mi zbydou vpodstatě jen prsty jedné ruky na to, abych spočítal lidičky, kteří jsou v mém životě konstantami a kterých se už nikdy nevzdám.
 Jmenovat je nebudu.. oni to ví..