Články a reportáže
Datum: 14.11.2006
| |
Přečt.: 27452x
|
Hodn.: 1,00 z 5
|
Kom.: 19
|
Rub.:
Různé
Když se splaší sítě.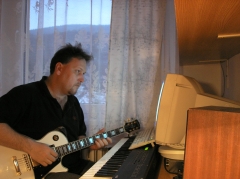 aneb, rekonstrukce těchto stránek
Přátelé
V první řadě bych se rád omluvil všem, kteří si tyto stránky oblíbili a teď zjišťují, že spousta věcí z těchto stránek zmizela.
Není to tím, že bych je smazal nebo, nedej bože, zasáhla BIS nebo CI5, ale prostě došlo k problémům na hostitelském serveru, a data, která se tady nalézala, jsou nenávratně v ... fuč!
Nicméně, možná je to zásah Boží ruky, alespoň některé horké diskuse zmizely z těchto stránek, a vlastně teď už to jsou stránky skutečně jen o mě.
Slibuji tedy nyní jako hvězda jasná, že tyto stránky znova dám do pořádku, napíšu zde všechny důležité údaje, které jste zde nalézali a dopolním všechny hudební soubory a fotogalerie.
Bohužel, ani já nemám zazálohovány texty původních stránek, takže vše co zde bude, bude vlastně nové.
Přeji vám při dalších návštěvách dobré počtení a trochu trpělivosti, než to tady dám zase trošku do pucu.
Zatím Ahoj