Články a reportáže
Datum: 29.03.2009
| |
Přečt.: 13650x
|
Kom.: 12
|
Rub.:
Seriály
KDE SE HRAJE? - POŠTA V NOVÉM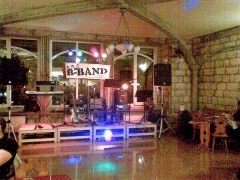 O novém kabátě nejmuzikálnější hospody ve městě Děčíně
Že už to tady bylo?
Máte pravdu, už jednou jsem článek na toto téma psal, ale na Poště se od těch dob změnilo tolik, že kdyby ho teď někdo četl tak by měl asi úplně zkreslené informace.
Pokud si dobře vzpomínám, tak jsem trošku kritizoval, zastaralé sociální zařízení a to je dnes právě naopak. Poté co majitel hotelu Radek Flachs vystavěl luxusně i tyto prostory bylo to opravdu hnedle znát. Na tanečních zábavách se najednou změnila klientela a přibylo tančících a spokojených dam a slečen. Jenže to ke spokojenosti pana šéfa zjevně nestačilo a tak inspirován filmovými ateliéry přebudoval i přední část restaurace.
Nápad to byl vskutku odvážný, protože imitovaný pískovec a klenba posunuly tuto místnost jakoby o několik století směrem vzad. Také nápad číslo dvě ponechat tyto prostory jako nekuřácké kvituji ač sám kuřák. Určitě se muselo ulevit i muzikantům nekuřákům a to zejména těm, kteří zpívají. Myslím že ani kuřivachtivým návštěvníkům, kteří se zde usadí není zatěžko odběhnout si na svojí dávku nikotinu do druhé části restaurace. Dokonce ani nepřijdou o produkci, protože oba prostory jsou oddělené jen pomyslně. Prostě vítězství rozumu a kompromisu.
Na muzikanty křepčící na pódiu nyní také lépe uvidíte, protože jeviště je nyní o něco vyšší a tak zpěvačky trpějící závvratěmi si budou muset zvykat.
Ostatní zůstalo při starém. Skvělé pivko a jídlo a pestrý výběr kapel hrajících se železnou pravidelností každou sobotu je prostě na Poště zásada číslo jedna i nadále.
Tedy pro všechny, kteří jste tam dlouho nebyli, snad vám bude toto povídání inspirací.