Články a reportáže
Datum: 22.06.2009
| |
Přečt.: 23087x
|
Kom.: 16
|
Rub.:
Seriály

Kde se hraje - Restaurace Koruna ve Svádově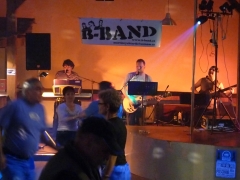 Aneb aby svádováci a ústečané nepřišli zkrátka
Tak jednou mi povídá Petr ve Svádově v Koruně, nahlížejíc mi do karet v mariáši, zda bychom někdy nepřijeli zahrát. A já jsem řekl:"Proč ne?"
Pak jsme se dlouho nemohli trefit s žádným termínem, až najednou řekl: " A co takle čarodějnice?". A já na to: " Proč ne?" a tak jsme zahráli. Pak jsme se podobně domluvili na kácení máje a poté co se tancovačka vydařila, jsme se dohodli i na dalších akcích. A já z toho mám radost. Mimochodem milí svádovští, tancovačku na kácení máje považuju letos za nejvydařenější.
Ale abych příliš neodbočoval ze zajetých kolejí tohoto seriálku. Do Svádova se dostanete autobusem č 13. z Ústí nad Labem a to přímo až před restauraci Koruna. Dobrá zpráva je. Že jede i noční tuším kolem jedné zpět do UL. Takže žádné řízení, ale pěkně za láci busíkem zpět do města. Autobus tam je za cca 20 minut což je pohoda.
Pivko 10° Březno, moc dobře natočené je fain a další občerstvení (myslím to tekuté) je k mání na baru. V Koruně se nevaří, takže budete muset vzít za vděk studenou kuchyní, ale vesnická tancovačka je vesnická tancovačka. Prostě atmoška vám to vynahradí. Navíc díky dlouhodobému provozování diskoték je sál pro tanec parádně osvětlen a tak je tady velmi útulno.
Velice milé je i velice rozumné vstupné stejně jako ostatní ceny.
Takže. Kdybych to měl shrnout, určitě by jste se měli do Svádova mrknout, protože to jednoduše stojí za to. Můžete si užít doslova za málo peněz hodně muziky. Čili, jeďte tam!
Termíny samozřejmě naleznete v Akcích. přejít na akce