Články a reportáže
Datum: 12.07.2009
| |
Přečt.: 21431x
|
Kom.: 222
|
Rub.:
Seriály

KDE SE HRAJE? - Městské sady v Ústí nad Labem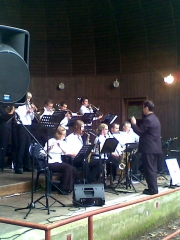 aneb aby v létě nebyla nuda
Hlavně nečekejte žádnej bigbít.
To říkám hned dopředu, aby jste si nemysleli, že jen bigbošem ústečan živ je.
Nicméně jestli se tak v neděli v létě touláváte v podvečer po městě, tak sem zkuste někdy zavítat. Já jsem za to, že "Mušle" ožila promenádními koncerty a že jí bezdomovci a jiní živlové nezlikvidovali a zůstala tak ústečanům zachována, moc rád.
Musím se trošku přiznat, že mi pořádání letních promenádních koncertů úplně uniklo a tak jsme měli vlastně štěstí, že jsme z procházkou nepřišli tak trochu s křížkem po funuse. Vyslechli jsme tedy náhodou celé vystoupení Big Bandu Teplické konzervatoře a musím, říct, že jsme se tedy opravdu příjemně pobavili.
Aby neujel vlak i vám tak vězte že, koncerty se budou konat každou neděli, pokud to přízeň počasí dovolí, až do konce srpna vždy od 17:00 hodin. Když si odmyslím i nějaké ty dechovky, což jak zpívá Petar Introvič "není můj vkus", myslím že by stálo za to juknou třeba na Brass Bombers 16.8. anebo na ústeckou klasiku Albis Jazz Band, což je poslední letošní promenádní koncert 30.8.
Tedy procházejte se. Vlastně, promenádujte se!