Články a reportáže
Datum: 10.08.2009
| |
Přečt.: 37856x
|
Hodn.: 1,26 z 5
|
Kom.: 76
|
Rub.:
Seriály
KDE SE HRAJE? - Restaurace Pod Vyhlídkou Ústí nad Labem Střekov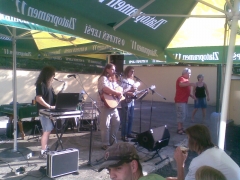 Jak mávnutím proutku.
Tak tohle je zaručeně dobrá zpráva pro všechny Střekováky.
Myslím, že asi nebudu jediný kdo uvítal změny v této prastaré hospůdce. Napřed záhadné síly upravily stromy. Potom upravily zahrádku, umístily nové lavičky a slunečníky. Poté nainstalovaly gril a objednali muziku a hle! Rázem je na Novosedlickém náměstí živo.
Vypadá to jako by někdo mávnul kouzelným proutkem je najednou kde posedět, dát si pivko, poslechnout muziku a nabaštit se něčím co jest na ohni připraveno.
Pokud dobře počítám funguje to tahle už tři neděle. A když říkám neděle, tak myslím neděle, protože sedmý den v týdnu je muzicírování zde vyhrazen a to vždy už od odpoledne cca do 21:00 hodin.
To je pochopitelné protože v okolí jsou činžovní domy a ne každý by chtěl poslouchat v neděli bigbít do půlnoci přes zavřená okna ložnice. Inu, vítězství rozumu. Kéž by to tak šlo všude.
Na fotce, kterou jsem uloupil pomocí svého mobilu je skupina KLS z Ústí nad Labem, kterou jsem vydržel posluchat, dokud zmíněná devátá neodbila. Také příjemná záležitost.
Z kuloárů myslím můžu vyzradit, že se chystá i otevření vinárny a ta by měla být taktéž muzikální. Při troše štěstí zde možná shlédnete i B-BAND.
Ještě rada na závěr. Pozor, na zahrádku se vypravte včas, jinak si nesednete. Bývá totiž plno.