Články a reportáže
Datum: 26.08.2009
| |
Přečt.: 32713x
|
Hodn.: 5,00 z 5
|
Kom.: 57
|
Rub.:
Seriály

Kde se hraje? - Pláž Staré Splavy - Máchovo Jezero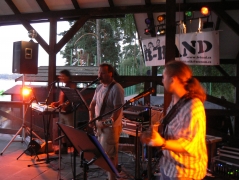 Už jsme to zkusili, a vy?
Tak tenhle díl by spíše spadal do seriálu " Kde se bude hrát".
Na pláži ve Starých Splavech si letos spíš užívali DJ-ové, ale nás poprosili o tancovačku a tak jsme tedy jeli.A stálo to docela za to.
Pravda hráli jsme napoprvé spíš k poslechu, ale příliš nám to nevadilo, protože každá věc se musí zaběhnout a navíc bylo krásně a výhled s terasy na jezero a neuvěřitelně kýčovitý měsíc nám opravdu udělal skvělou náladu.
Cirka stovka lidiček sedělo na terase, občas si někdo skočil na parketě anebo jen tak posedávali na večerní pláži a bylo jim fain. Taková docela prima symbióza to byla.
A teď to nejdůležitější. Jelikož pan šéf byl s námi spokojen, je pravděpodobné, že příští prázdniny se tam mihneme vícerokrát. Tak to nepropásněte.