Články a reportáže
Datum: 01.01.2007
| |
Přečt.: 6910x
|
Hodn.: 1,00 z 5
|
Kom.: 7
|
Rub.:
Seriály
Kde se hraje? - KOCANDA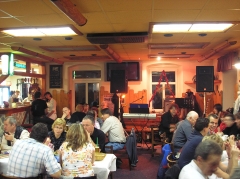 O jedné opravdu nafukovací hospůdce Tak se konečně dostávám k tomu, abych se pokusil Vám přiblížit Kocandu. Najdete jí poměrně snadno. Je na Starém Městě v Děčíně hnedle u Labe. Tato krásná hospůdka, prošla za poslední desetiletí mnohýmy proměnami směrek do krásy. Možná Vás napadne, proč používám slovo nafukovací. No ona je totiž tak trošku nafukovací. Vlastně ve výčepu se posadí asi tak 50 - 60 lidí. Když je potřeba odšoupnou se magické dveře salónu, který se vlastně tváří jako zeď, tedy než se ta zeď odšoupne a hle, dalších 50 lidiček se může pohdlně posadit do dřevem vykládaného salonu, ostatně jako je provedená celá Kocanda. A pokud člověk nakoukne za roh je tam dalších asi patnáct míst k sezení. No a pokud by to někomu nestačilo je tady terasa č.1 odhaduji asi pro dalších 40 lidí a vyvýšená terasa pro dalších cca 20 - 30 lidí. Už chápete proč říkám nafukovací?? :-) Kocanda je vyhlášená dobrou kuchyní, já bych Vám doporučil řízkovou kaskádu, což je cosi co není možné za normálních okolnstí sníst, pokud tedy návštěvník není Otesánek. Kdo chce jenom tak mlsnout ke Staropramenu 10°, který se tady čepuje, doporučuji buď výbrné topinky s masovou směsí anebo jakési sýrvé kuličy, ( na název si nevzpomenu), ale je to mooooc dobrý. Na Kocandě se hraje pravidelně každý pátek a nejčastěji je zde vidět Helena a její chlapci, B-BAND a Wydle. Dbrá zpráva pro nekuřáky, v létě se hraje na terase pod širým nebem, pokud tedy počasí dovolí, a to bývají opravdu prima večery. Trošku nevýhoa Kocandy je poněkud málo místa na tancování, ale znáte to - dobrých lidí se všude vejde. Velkou výhodou je krásné prostředí a výborné sociální zařízení a vlídná obsluha, stejně jako poměrně snadná dosažitelnst městskou dopravou. Jedním slovem, nafukovací hspůdka na Starém Městě jistě stojí za Vaší návštěvu.
Nejbližší akce

20.04.2019
DALIBORKA - Na poslední chvilku!
Přátelé, neplánovaně na Daliborce už od 19:00.

27.04.2019
BAR U PRINCE - Děčín
Než budete na čarodějnicích křepčit kolem ohňů, přijďte potrénovat. Začátek ve 20:00.

30.04.2019
PÁLENÍ ČARODĚJNIC VE SVÁDOVĚ 2019
Pčed Restaurací koruna od 18:00 hod.