Články a reportáže
Datum: 15.03.2010
| |
Přečt.: 29732x
|
Kom.: 12
|
Rub.:
Seriály
Desky které ve mě zanechaly drážku - MICHAL HORÁČEK - OHROŽENÝ DRUH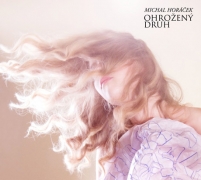 Nejen o textech a ženách
Takhle nějak to bylo... Bylo léto a na planině nad Žatcem chodil na stráži vojáček a koukal do kotliny plné světel. Pod maskáčovou blůzou ukrýval vypůjčený walkman. Ve sluchátkách Michael Kocáb zpíval Stáří a vojáček žasnul nad tím, jak elegantně lze muziku a text spojit v jediný efektní celek plný emocí. Walkmana jsem vrátil, namísto kasáren je dnes ruina, ale muzika a především skvělé texty Michala Horáčka zůstaly.
Když se mi deska Ohrožený druh dostala do ruky, dlouho jen tak ležela na poličce a čekala. Nakonec jsem si jí stáhnul do auta a tam jsem si jí už mockrát pustil.
Je až k podivu, ostatně jako vždy, jak vkusně byli vybráni autoři i interpreti a to vše jak bylo namícháno ve víceméně poklidný, ale evokující koktejl. Jinými slovy, vše co je zde zazpíváno, řečeno a zahráno, je velice snadno uvěřitelné.
Mě osobně se nejvíce líbí vše, co zde prodává Hana Robinson a Natálie Kocábová. Lehce šansonově laděná "Zpráva,která všechno změní" a přeromantická "Bellissima" jsou opravdu věci, které mi lezou pod kůži. Tím spíše, že nástrojově převládá akustický duch a rytmicky a dynamicky jsou to opravdu velice citlivě nahrané záležitosti.
Překvapením pro mě byl Richard Krajčo. Musel jsem se podívat na obal, abych zjistil, kdo že to zpívá ten duet s Hanou Robinson.
Trošku mě mrzí, že nejvíce medializovanou skladbou je zrovna "Jak se ten chlap na mě dívá", která samozřejmě není vůbec špatná. Klidně si ale namísto ní dovedu představit "Tramtárii" v podání Natálie Kocábové. Je to natolik sugestivně nazpívané, že jí normálně vidím jak jde s tím kufříkem a plyšáci jí koukají z kapes. :-)
Nebudu se rozepisovat o mistrně vyvedených textech Michala Horáčka, bylo by to nošení dříví do lesa a vám alespoň zbyde nějaké to překvapení až si desku pustíte. Stojí za to. Věřte mi.