Články a reportáže
Datum: 24.10.2010
| |
Přečt.: 33840x
|
Hodn.: 1,00 z 5
|
Kom.: 61
|
Rub.:
Seriály

Kde se hraje? - Restaurace Kameňák Ústí nad Labem, Střekov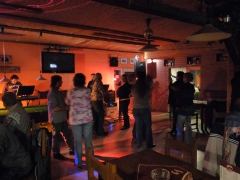 "U Nebožtíka" tedy rozhodně mrtvo není.
Když se v Ústí řekne "U Nebožtíka"´, ústečáci ví. Tahle hospoda, vystavěná původně dle klasické sídlištní socialistické architektury, tady funguje opravdu dlouho.
Ale není hospoda na sídlišti, jako hospoda na sídlišti. Rozhodně nečekejte zářivky, netěsnící okna a nástěnku ve vestibulu či jiné postsocialistické hrůzy :-) Tak to už snad není doufám nikde. Chtěl jsem jen naznačit, že restaurece je zařízena opravdu velice vkusně a útulně.
Nepochybně budete spokojeni i s kvalitou zlatavého moku a pokud by jste měli hlad, tak něco malého k pivku se zde dá také pořídit. Pokud se sem vydáte, budete se cítit opravdu v pohodě.
Hrávají se zde pátky a to cca 2x do měsíce. Je dobré se zastavit předem a zjistit si u obsluhy podrobnosti anebo rovnou zamluvit stůl. Může se vám totiž stát, že bude plno.
Jak se tedy zdá, zdaleka se na Střekově nehraje jen v zakonzervované Setuze, ale míst kam vyjít za muzikou je poslední dobou povícero, což samozřejmě není na škodu.
Návštěvou hospody Na Kameňáku nebo chcete-li "U Nebožtíka" určitě nic nezkazíte. Prostě, běžte se tam podívat. Neprohloupíte.