Články a reportáže
Datum: 26.10.2010
| |
Přečt.: 35485x
|
Kom.: 61
|
Rub.:
Seriály
Lidový Dům - Děčín Chrochvice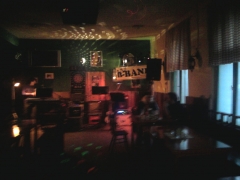 Lihový alias Lidový dům
Ne! Není to vtip. Skutečně obsluha tady nosí trička, tedy nevím jestli pořád, ale viděl jsem to na vlastní bulvy, s nápisem "Lihový dům".
Zvenčí hospůdka vypadá tak, že vás okamžitě napadnou Hapkovo - Horáčkovy Buřty, pivo a nenávist, ale nenechte se oklamat. Tahle hospoda si na nic nehraje, a je dobře, že je to právě tak. Uvnitř je mnohem prostornější a také mnohem útulnější než se pozdává zvenčí. Je vyvedená celá ze dřeva s nefalšovanou patinou a možná to jí dává jejího génia loci. K mému překvapení mi tady moc chutnal i Staropramen, o kterém jsem si myslel, že ho může pít jenom náš basista, jakožto pražská naplavenina. :-) K baště je tady taková ta klasika k pivu, takže biftečky paní hajné tady rozhodně nečekejte. Nicméně co jsme pojedli, bylo OK
Nevím v tuto chvíli, jak se hraní v Chrochvicích ujme, ale doufám, že ano. Totiž z muzikou a světly to všechno vypadá ještě o něco lépe. Chtěli jsme vám to přiblížit fotografií, ale Honzovi se nějak zaklepala ruka (nejspíš následkem nezřízeného hraní na basu a pitím U Nebožtíka), tak mu to odpusťte. Nezbývá vám tedy, než omrknout Lihový dům na vlastní tenisáky.