Články a reportáže
Datum: 02.12.2010
| |
Přečt.: 30515x
|
Kom.: 22
|
Rub.:
Seriály
Desky, které ve mě zanechaly drážku - MICHAL PROKOP a FRAMUS5 - Kolej Yesterday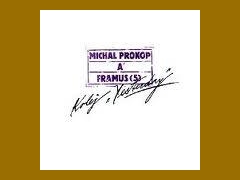 Zlatá 80 léta?
Framus 5 a Michala Prokopa jsem poprvé viděl rovnou naživo a to v Praze v roce 1985, kde jsem se jako tisíce dalších nešťastníků účastnil Spartakiády. Naštěstí to s sebou přinášelo i různé příjemnější prožitky než písek ze stadionu. Tím tedy nemyslím dorostenky v přilehavých úborech, ale i takové vymoženosti jako různé kulturní události, které se občas namanuly, když Pán Bůh , přesněji soudruzi dali.
Tak se stalo, že jsem na Staroměstském Náměstí vyslechl a vykoukal koncert Michala Prokopa a z přistavené maringotky polepené plakáty se dozvěděl, oč tady běží. Desku samotnou jsem si pořídil až o pár let déle.
Představovat tuhle nahrávku, která v osmdesátých letech byla myslím poslouchaná opravdu hodně, je samo o sobě nošení dříví do lesa. Neznám muzikanta, který jí nemá ve sbírce.
Málokdo ovšem ví, že řízením osudu se při nahrávání této desky sešli muzikanti, kteří se asi moc často takhle najednou nepodíleli snad už na žádném jiném projektu. Pokud se mýlím, tak mě opravte. Schválně, kde je naráz ke slyšení Ladislav Kantor a C&K Vocal, Jan Hrubý (ETC), Jiří Stivín, Petr Skoumal a dokonce Jan Spálený (ASPM)? Možná že práve tyto fúze dělají tento počin unikátním.
Pokud bych měl vybrat nějaké ty největší lahůdky je to složité a přitom v podstatě snadné. Vlastně to jsou největší hitovky Michala Prokopa, které všichni znáte. Jen pro úplnost tedy vybírám: Blues o spolykyných slovech se zajímavým tektem básníka Jiřího Žáčka, Bitva o Karlův most, titulní Kolej Yesterday a Odjezd od opravdu netradiční dvojce autorů Petr Skoumal - Josef kainar.
Celé to na mě dělá dojem, jako kdyby všichnni ze sebe vydali to nejlepší, když už tedy bolševik dovolil, aby se to nahrálo. Nakonec zkuste to posoudit sami.