Články a reportáže
Datum: 19.01.2011
| |
Přečt.: 35570x
|
Hodn.: 5,00 z 5
|
Kom.: 58
|
Rub.:
Seriály
Desky, které ve mě zanechaly drážku - Václav Neckář a Bacily - Planetárium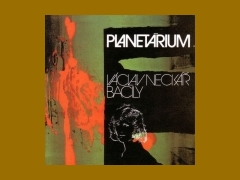 aneb, co si v mládí vyslechneš
Kdo by ho neznal? Klučinu z pohádky, nebo toho černobílého nádražáčka z oskarového filmu, hlas který dokonce vyprávěl i pohádky na vinylových deskách.
Tak trošku by se mohl zdát zprofanovaný tehdejším režimem z dob hlubokého míru, ale zdádní klame. Nicméně, kde nic není, ani smrt nebere, a proč by si ho bolševik vybral, kdyby na tom klukovi nic nebylo?
Pravda je, že Václav Neckář byl a doufám, že snad ještě je, někdo kdo má charisma na druhou. Jedna spolužačka mi jednou řekla, že je tak ošklivej, až je hezkej. Navíc když ho budete jen slyšet, podvědomě si vybavíte jeho úsměv. Zvláštní, pozoruhodné, nevysvětlitelné. Ale to se zabývám něčím, co každý ví a zná a tak přestanu mlátit prázdnou slámu, a budu se věnovat Planetáriu.
Zmíněná album, vlastně dvojalbum, vyšlo v roce 1977, to mi bylo osm a nebýt brášky, asi bych se s ním hned tak nepotkal. Dokonce si ani dnes nedělám iluze, že by byla tahle nahrávka nějak výrazněji zakořeněná v podvědomí národa českého. Je to obrovská škoda, protože dle mého ucha je to to nejlepší, co z dílny Bacilů kdy vyšlo.
Musím přiznat, že místy mi dnes připadá úsměvné až skoro naivní používání plného sterea a všelijakých syntezátorových efektů, ale v té době to bylo přesně to, co si doba art-projektů žádala. Kdo ví, co řeknou dnešnímu technu naši vnoučkové? :-)
Hudba včetně aranží vesměs z dílny Otakara Petřiny a Jana Neckáře je opravdu skvělá a deska se míhá tak trochu napříč žánry i tématy. Je možná dobře, že ani textaři se nedrželi striktně tématu a díky tomu nevzniklo něco tak chtěného a upoceného jako byla o desetiletí pozděli třeba Laboratoř od skupiny Olympic.
Abych Petrovi Jandovi nekřivdil, tak paradoxně za největší perlu Planetária považuji zrovna písničku, kterou napsal společně s Zdeňkem Borovcem s názvem Šťastné údolí. Ovšem zajímavých kousků na dvojalbu je mnohem víc. Vybírám opravdu těžko:
Do tématu vás nenásilně uvede snad až žoviální Světová výstava. Následující Diamantová žena má doopravdy až kosmický nádech. V příkrém kontrastu šestiosmina To se stává je jakoby z jiné desky, ale saxofon, který jí podbarvuje dává odpočinout od již zmíněných analogových pokusů. Tématu se naopak velice vkusně drží songy Pět světelných let a Lásko, 3,2,1 a start s neotřelými a až neuvěřitelně jednoduše a řemeslně odvedenými texty.
Jsem rád, že se tady objevily i tituly jako
Známe ho, žádný vzor
a
Swingující Jupiter
, které celé desce odlehčují a vyloudí i pousmání na tvářích posluchačů.
Něco na té nahrávce asi bude. Hodnotím podle toho, že i po třiceti letech, které mě dělily od posledního poslechu, jsem si většinu písniček a kupodivu i aranží pamatoval. Buď jsem měl tehdy ještě neopotřebovaný mozek, nebo na té desce něco je.
Posuďte sami. Prý vyšla i na CD.:-)