Články a reportáže
Datum: 03.09.2011
| |
Přečt.: 36997x
|
Hodn.: 4,80 z 5
|
Kom.: 62
|
Rub.:
Seriály

KDE SE HRAJE? - Restaurace Kotelna- Jílové u Děčína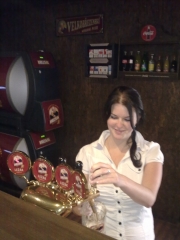 Nově otevřená fešácká hospoda!
Bez obalu na začátek rovnou řeknu, že ostatní Jílovské provozovny se můžou asi chytit trošku za nos.
První předností a zajímavostí zároveň, že se skutečně jedná o rekonstruovanou kotelnu a má díky tomu i nový interiér vonící nefalšovanou novotou. Že tady bude čisto a příjemně je tedy samozřejmostí.
Druhá přednost je výtečné 12° Březno točené přímo z tanku a to za příjemných 21,- Ká. Má to dvě výhody. Není to nálevna či pivnice, ale zároveň to není předražená nóbl hospoda. K baště tady dostanete vždy to, co pan šéf dle své nálady uvaří. Co jsme ochutnali my, bylo super. Zeptejte se Jožina. To je znalec.

Co se muziky týče, ač nám to připadlo, neřešitelné, dokázali jsme se sem v pohodě vejít a kupodivu je tady i pohodová akustika. Obsluha vlídná, ceny mírné a lidé hodní.
Běžte to vyzkoušet!