Články a reportáže
Datum: 11.02.2007
| |
Přečt.: 20646x
|
Kom.: 12
|
Rub.:
Seriály
Desky, které ve mě zanechaly drážku - LOVE OVER GOLD - DIRE STRAITS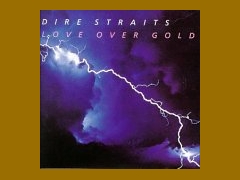 Jak jsem objevil desku na doživotí...
TELEGRAPH ROAD PRIVATE INVESTIGATIONS INDUSTRIAL DISEASE LOVE OVER GOLD IT NEVER RAINS
1982 Na objev této nahrávky mám nádhernou vzpomínku. Tenkrát ještě za bolševika se tato deska dočkala i vydání v tehdejší ČSSR. Nevím za co tomu Mark Knopfler vděčil, snad občas s troškou sociální tématiky v textech, což bolševikovi samozřejmě polichotilo, a tak si autor předmluvi na obalu udělal z Dire Straits politický úvodník, ale to je vlastě úplně jedno. Tenkrát bývala v OD Labe prodejna gramodesek, a mládež, která tehdy neměla vysoké kapesné tam chodila a opřená o zábradlí tam poslouchala, to co zrovna fičelo. Jednoho dne jsem tam právě prostál celých těch 45 minut a pak ještě jednou, protože tahle muzika mě prostě podlomila nohy. Pak nastala hrozná sháňka po někom, kdo mi toto veledílo zkopíruje na kazetu. A pak jsem se mohl kochat dál a dál Úvodní skladba
TELEGRAPH ROAD
má délku tuším něco kolem čtvrt hodiny a není o ničem jiném než o osídlování Ameriky. Pozorný posluchač nepřeslechne vynikající party klavíru, který se pne celou deskou jako stříbrná nit a výborně sekunduje jak jinak, než skvělé Knopflerově kytaře. V úvodní skladbě je prostoru pro jeho sólovou hru hodně. Samozřejmostí je i dynamika ve všech aranžích desky, tolik pro Dire Straits příznačná. možná jí budete znát v nevšedním podání Poutníků a Roberta Křesťana. Odvážný, ale zdařilý počin.. Ve druhé skladbě
"PRIVATE INVESTIGATIONS"
je pro mě fascinující krásný motiv akustické kytary a tak trochu i téma písně. Jakási zpověď soukromého detektiva. Divná práce :-) INDUSTRIAL DISEASE je takový nevšední rock and roll ze které si právě dotyčný autor úvodníku uděla politickou agitku. No nějaké náznaky té sociální tématiky by se tam asi našly... Nejzdařilejší kus na desce je pro mě bezpochyby titulní
"LOVE OVER GOLD
. Mnozí jí považují, za nejslabší píseň, ale já sám za sebe jí vnímam jako romantické veledílo. Harmonie písničky je někdy téměř až neznatelná a schovaná za linkami kytar a klavíru. Prostě srdeční záležitost. Poslední na desce
"IT NEVER RAINS"
zapadá do celkového formátu desky a nijak z něj nevybočuje. Možná by mohla být o minutku kratší, ale zase na druhou stranu pozorné ucho se nenudí až do konce. Co dodat na závěr? Necítím se být fundovaným kritikem, k tomu koneckonců tento miniseriál ani neslouží. Spíš jsem vám chtěl odhalit, odkud pramení moje hudební cítění jako takové. Takže pokud máte někdo opačné názory, vůbec vám je nehodlám brát. V každém případě vy, kdo
LOVE OVER GOLD
neznáte, zkuste si jí poslechnout. Poslouchejte jí v klidu, ne v autě. Poslouchejte jí několikrát, budete stále objevovat nové a nové věci na tomto kotoučku z roku 1982.