Články a reportáže
Datum: 27.08.2017
| |
Přečt.: 30289x
|
Kom.: 24
|
Rub.:
Seriály
Desky, které ve mě zanechaly drážku - OLYMPIC - Prázdniny na zemi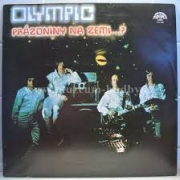 Není to tak dávno co jsem tuhle desku poslouchal v autě a uvědomil jsem si, že jsem jí už hezkou řádku let neslyšel. Líbila se mi už jako dvanáctiletému cápkovi, který se učil první akordy na kytaru, hned na první ránu, a po 36 letech muzicírování a psaní se mi líbí ještě víc. Vybavuje se mi jak jsme jako dvanáctiletí kluci hráli na dvě španěly a jednu flétnu "Co všechno se tu může stát" , což mimochodem považuji za jeden z nejdařilejších kousků na tomto vinylovém kotoučku, ale hezky popořádku:
  Deska vyšla v roce 1980 u Supraphonu a byla první z trilogie Prázdniny na Zemi, Ulice a Laboratoř. Ulice je skvělá, ale tahleta "prázdninová" je dle mého soudu nejlepší deskou Olympicu vůbec. Autoři Petr Janda a Zdeněk Rytíř si vzali za nosné téma životní prostředí, což v dobách hlubokého míru bylo dobře vybrané téma, takže ani bolševik s ním neměl zásadní problém a tak mistři oboru měli docela volnou ruku a zhostili se tématu více než skvěle. Texty a muzika spolu výborně korespondují a vytvářejí dojem, jakoby to celé napsal jeden člověk. Nikdy jsem nezjistil, zda se na aranžích podíleli všichni tehdejší členové Olympicu, ale soudil bych že ano. Klávesové a basové figury Miroslava Berky (bohužel moc předčasně zesnulého) a Milana Brouma jsou nepřeslechnutelné a vytváří neskutečné kořeněnou atmosféru celého projektu, viz již zmíněná "Co všechno se tu může stát" (M. Berka) a "Nechoď dál" (M.Broum).
  Je to deska, která vlastně vůbec není veselá, ale přitom není ani depresivní. On vlastně Janda ani depresivní muziku psát neumí. Spíš bych řekl, že je taková překvapující. V té době ostatně určitě být musela. Tohle jistě nikdo z dřevitých fanoušků Olympicu nečekal. Za nejlepší kusy kromě již dvou zmíněných skladeb bych ještě přidal "Strom" a "Přílet". Úplně top je pro mě "Nechoď dál". Myslím, že kdejaká kapela by měla ještě dnes docela problém to takhle střihnout.
   Co na závěr? Prostě klukovská láska mi vydržela a asi už vydrží. Tahle drážka je ve mě vyrytá už hodně dlouho!.