Články a reportáže
Datum: 05.05.2007
| |
Přečt.: 7936x
|
Kom.: 16
|
Rub.:
Seriály

Kde se hraje? - ELDORADO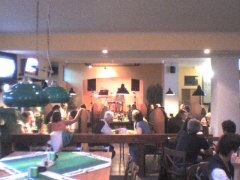 Tak máme za sebou premiéru v Eldoradu. Musím říct, že máme velkou radost, že vás napoprvé přišlo tolik. Děkujeme. Také musím říct, že mi je líto všech, na které už díky rezervacím nezbylo místo. Příště si pospěšte ať to máte jistý! Tak a teď tedy k věci. Co to vlastně Eldorado je? Hospůdku najdete v Bynově hnedle nad fotbalovým hřištěm. Opravdu nejde přehlédnout. Normálně funguje jako nenormální podnik protože otevírací doba do 7:00 se hnedle tak někde nevidí :-) Prostě hospoda pro nezmary :-) Ovšem nutno podotknout, že charakter doraz-baru rozhodně Eldorado nemá. Zato má hnedle několik atrakcí které se hnedle někde nevidí. Pro nadšené televizní diváky je zde, nemýlím-li se šest televizních obrazovek, takže pokud chcete fandit našim v hokeji, běžte sem uvidíte odevšud dobře. Hrací automaty pro nepolepšitelné závisláky jsou zde ve speciálním salonku, takže se mohou oddávat vhazováním mincí, aniž by někomu vadili. Taktéž je možné si zahrát stolní fotbálek, kulečník či šipky. Takže se tu nechá prožít v partě přátel docela prima večer, i když tady zrovna na pódiu nekřepčí. Řekl jsem na pódiu ??? No je to tak! Skutečně. Muzikanti zde mají pódium a pěkně vysoké což považuji v Děčínských poměrech za komfortní záležitost. Jsou tedy dobře slyšet i vidět, i když sedíte v útulných kójích nebo u stolků na volné ploše. Ke slyšení zde byla country kapela, jejíž jméno neznám, ale i DJ nebo my. Pokud jsem na někoho zapomněl, tak se omlouvám, nejsem Bynovský zpravodaj. Hrává se tady zpravidla v pátek. K tomu všemu si můžete dát něco dobrého z dost bohatého jídelního lístku a vše zapít 12° Staropramenem nebo - POZOR - točenou Kofolou! Paráda. Prostě a jednoduše podnik, který v Bynově rozhodně chyběl. Jen se trošku modlím, aby nějaký dobráček neoběhl přilehlé paneláky s nějakou "vynikající" peticí, která by tancovačkám zde udělala přítrž. Snad se to nestane. PS: Fotky jsou z mobilu, takže si budete muset možná něco domyslet, nebo se tam jít podívat. Doporučuji.
Nejbližší akce

27.04.2019
BAR U PRINCE - Děčín
Než budete na čarodějnicích křepčit kolem ohňů, přijďte potrénovat. Začátek ve 20:00.

30.04.2019
PÁLENÍ ČARODĚJNIC VE SVÁDOVĚ 2019
Pčed Restaurací koruna od 18:00 hod.

17.05.2019
Hospůdka Pivo Studené, Březiny
Hurá na hřiště za muzikou.