Články a reportáže
Datum: 28.09.2007
| |
Přečt.: 16864x
|
Kom.: 11
|
Rub.:
Seriály
Desky, které ve mě zanechaly drážku -NEREZ - NA VAŘENÝ NUDLI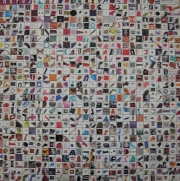 Kapela, po které se mi stýská Asi se neubráním nostalgii, píšu-li tento článek. Dlouho jsem váhal, kterou z desek tohoto mimořádného kvarteta bych měl do seriálu zařadit. nakonec mi zůstaly na výběr dvě
Masopust
a právě
Na vařený nudli.
Nakonec jsem zvolil právě druhou desku, protože mi připadá muzikantsky bohatší, ačkoliv ta první je moje srdeční záležitost a vlastně by tady měla být. Tak mi odpusťte tuto malou vyjímku. Desku kterou vydal Panton natočili Nerez v Praze v roce 1987 a všichni mí vrstevníci, kteří poslouchali folk v té tobě z ní byli hotoví včetně mě. Deska plná zajímavých aranží nevšedních hudebních nápadů a nekutečně emotivních vokálů se zákonitě líbit musela. Za povšimnutí stojí i fúze Nerezu a Laury a jejích tygrů v titulní písni. Mě nejvíc oslovuje trojce písniček které napsala dnes již bohužel zesnulá Zuzana Navarová s jednou autorskou účastí Zdeňka Vřešťála
"Naboso" "Naruby"
a
"O samotě"
. Dokonce bych sám za sebe mohl říct, že je to skutečně to nejlepší co tato folková ikona v osobě Zuzany nazpívala. Desku nahrál Nerez ve složení Zdeněk Vřešťál, Vít Sázavský, Zuzana Navarová a Vladimír Vytiska. K nahrávání si přizvali poměrně mnoho zajímavých hostů. Za zmínku stojí určitě nevšední písnička
Dušičky
s účastí dechového kvinteta. Smutné jsou dvě věci. Zejména to, že Zuzanu Navarovou už nikdy naživo neuslyšíme. Druhá špatná zpráva je, že pokud budete shánět tuhle desku, budete jí shánět asi dost těžko, protože pokud vím není nikde k mání. Pokud ovšem víte, kde se dá sehnat třeba na CD, dejte mi vědět a já dám prostřednictvím těchto stránek vědět ostatním. Na vařený nudli je totiž skvost a povědomí si určitě zaslouží.