Články a reportáže
Datum: 06.11.2007
| |
Přečt.: 8284x
|
Kom.: 9
|
Rub.:
Seriály
Jak se narodily?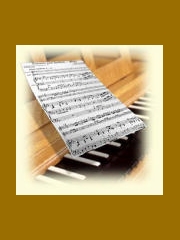 Nový seriál na tomto webu Občas se mi stává ta zvláštní věc. Někdo prostě přijde a zeptá se mě, proč, kdy nebo jak jsem napsal tu či onu písničku? Je to zvláštní, ale cesty od prvního záchvěvu motivu či myšlenky po papír popsaný textem a akordy vedou cesty různé. Myslím, že většina lidí má podobné zkušenosti. Existují písničky, které jsou napsané na hospodské účtenky, některé jsou tak dlouho nošené v hlavě, že vlastně není nutné je ani zaznamenávat. Některé se schovávají jako SMS v mobilu nebo dokonce jako hlasový záznam nazpívaný v parku cestou z nebo do práce. Některé jsou pečlivě zapisovány do speciálního bloku, který leží hedle vedle kláves na stole. Některé jsou tematicky vymyšlené dopředu. To znamená, že už předem se ví, o čem dílko bude a jsou takové, které vyplynuy z náhodně znějícího popěvku a příběh se vyvíjel současně pohybem tužky. Můžou se narodit za pár minut, za pár hodin a dokonce i za pár let. Melodie se rodí a zapomínají do rána, aby se vrátily za pár dní zpět do hlavy nebo už nikdy. Zůstávají v paměti, aby byly za dva roky oživeny a oblečeny do nových kabátů. Je to takový zmatený svět, který nikde nekončí a který mě překvapuje stále dál a dál. Vždycky, když je něco dokončeno, dostaví se pocit prázdna, že už nic dalšího nebude. A nakonec stejně zase někde vyroste kousek nápěvu, který nakonec dokvete v písničku. Pokusím se v následujícím seriálu, u několika písniček osvětlit. Jak vznikaly. Proč jsem je napsal. Nebo co mě inspirovalo. Doufám, že se Vám seriálek bude líbit.
Nejbližší akce

19.07.2019
Hospůdka Pivo Studené, Březiny
V létě po parném dni na pivko a taneček ...

09.08.2019
Soukromá akce - MANE

16.08.2019
Hospůdka Pivo Studené, Březiny
Prázdniny v plném proudu, přijďte na taneček na hřiště