Články a reportáže
Datum: 27.01.2008
| |
Přečt.: 23520x
|
Kom.: 53
|
Rub.:
Seriály
Desky, které ve mě zanechaly drážku -RAVEN - KAMENÍ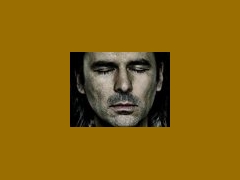 Nejmladší, ale... Tak tak. Je to tak.
Tahle deska, která vlastně nikdy neměla drážky, protože vinylovým kotoučkem nikdy nebyla, je v mé rodině těch, které zanechaly drážku, skutečně nejmladší. Aby nebyla, když vyšla v roce 2006.
Ovšem Raven pro mě zdaleka nebyl neznámým autorem a interpretem. Před více než deseti lety jsem byl vlastníkem skutečné kulaté černé desky s názvem "Bubny a píšťaly". Už jí hrozně dlouho nemám a ani netuším kam se poděla, jen v hlavě mi zůstaly dvě písničky a to "Berlín! a "Ona a syn".
Poté co jsem v létě dostal darem novou desku s názvem "Kamení" jsem byl hodně zvědavý co přinese tento multiinstrumetalista, skladatel, textař a zpěvák v jedné osobě tentokrát. Muzika na mě dýchla, takže netrvalo dlouho a ocitla se na USB, které vozím v autě a poslouchám dokola.
Na desce Kamení najdete hnedle 15 titulů. Po několikerém poslechu musím řící, že Raven skutečně zraje jako víno. První co mě dostalo jsou neuvěřitelně dobře napsané texty. Opravdu nejde poprvé poslouchat muziku i texty naráz. Na osmý poslech začnete teprve objevovat tu hloubku, kterou Raven disponuje.
Za nejlepší počin na kotoučku považuji píseň "Hoří" která opravdu leze pod kůži díky skvělé melodii, minimální aranži a textu, který bere za srdce. To vše je velmi přesvědčivě nazpíváno. Další zdařilé kousky dle mého soudu jsou "Starý chlap a mladá noc" a "Ta noc se nejspíš nevrátí" ale podotýkám, že opravdu vybírám z těžko vybíratelného. Nechci aby to vyznělo, že jsou ´tam tři silné kusy a omáčka. Ne. ta deska je dobrá celá.
Pokud mi nevěříte nějaké ukázky jsou i na oficiálních Ravenovo stránkách.
(přejít na stránky Ravena)
. Album Hoří bez větších problémů seženete v internetových obchodech, kdyby vás to chytlo.
Tak se mějte, posloucháčci.