Články a reportáže
Datum: 13.01.2009
| |
Přečt.: 26515x
|
Kom.: 12
|
Rub.:
Basákův brum
O potrefených husách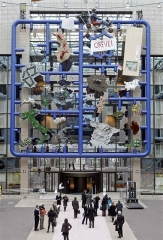 Není to tak dávno, co se muslimové pohoršovali nad karikaturou proroka Mohameda coby fešáckého teroristy.
Celá Evropa, ba co Evropa, celý nemuslimský svět tehdy nejdříve kroutil hlavou nad povykem, který se od muslimů ozval, a všichni se nakonec zařadili do řad těch korektních, kteří mlčky a potají stáhli výše uvedené kresbičky z netu a odjinud v rámci nenaštvání multikulti menšin v jejich zemích, neboť jim pohroženo bylo džihádem bez jakékoliv korektnosti.
Náš výtvarník, pan David Černý stvořil plastiku s názvem "ENTROPA", která karikuje stereotypy jednotlivých států EU. Pravda, zvolil cestu velmi neortodoxní, ba excentrickou, ale spoléhal se na vrozený smysl pro humor a sebereflexi tradičně křesťanské Evropy. Asi neznal staré dobré české přísloví o drůbeži potrefené.
Dle mého názoru to docela trefil. "PidiČesko" v centru plastiky, se silnými výroky pana prezidenta, kterému mimochodem dost fandím, mi připadá výstižné, stejně tak zaplavené Nizozemsko s věžičkami minaretů, litevci močící přes ruskou hranici, maniakálně fotbalová Itálie, stále stávkující Francie a dle seriálu Užovka 138 (pardon Kobra 11) dálnicemi křižované Německo, "zelené" Rakousko s jadernou elektrárnou, pralinková Belgie, kovářsky spojený Kypr, legové Dánsko, požáry sužované Řecko, čabajkové Maďarsko, zlaté Lucembursko na prodej, drákulovské Rumunsko, to jsou umělecké postřehy, nikoliv urážka.
Snad jediné, co mi uniklo je záchodové Bulharsko, autor sám píše: "Náš projekt je pro mě příležitostí vypořádat se s falešným vlastenectvím, ulevit si od bídy bulharského materiálního i duchovního života. V neposlední řadě to naštve spoustu lidí – o to mi jde také, vyvolat skandál, a to především u nás doma. Je to punkové gesto, záměrně primitivní a vulgární, fekálně pubertální.". Tak asi jo, skandální to fakt je.
TAK ALE PROČ JE ČESKO TAK MALINKÉ!?!? Sranda ....
Jenom se vracím k údivu Evropy a světa nad střečkováním muslimů v roce 2006. Nejsme nakonec stejní jako ti muslimové, postižení segregační horečkou? Já pevně věřím, že ne. A také věřím, že Evropa pochopí tuhle provokaci jako zrcadlo. Zrcadlo, které ji nastavil umělec s cílem ji ukázat takovou, jak ji vidí on. Chápu to jako zvýraznění těch zvláštností jednotlivých národů, ovšem zapojených do jednoho výlisku jako ze stavebnice letadla, tedy něco, co přes všechny tyto rozdíly do sebe zapadá a tvoří jeden celek. Celek, kde každá část může být jiná, ale dokáže najít společný modus vivendi bez toho, aby rozdíly, které stojí za to zachovat, byly uměle zahlazovány nebo regulovány. A to bez rozdílu pohlaví, rasy či vyznání.
Foto: Reuters
Zdroj: Entropa – publikace vydaná ku příležitosti předsednictví ČR v EU v roce 2009. (www.eu2009.cz)