Články a reportáže
Datum: 28.08.2011
| |
Přečt.: 37978x
|
Hodn.: 5,17 z 5
|
Kom.: 74
|
Rub.:
Pro mlsné huby

File úplně jinak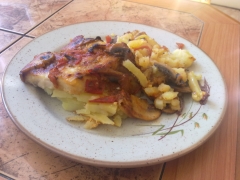 Potřebujete:
6-7 brambor, 4 kousky rybího file, 2 - 3 rajčata, 5- 6 žampiónů (asi 4 cm velké), 1 lžíce kečupu, stroužek česneku, sůl, pepř, kmín, petrželovou nať, strouhanku, hladkou mouku, olej a tuk na vymazání pekáčku.
Jak na to?:
Brambory uvařte ve slupce a oloupejte. Buďte chytřejší než já a uvařte si je předem. Ne každej má ručky azbestovky. Brambory zpracujte na hranolky, přesně jako na bramborový salát. Pekáček si vymažte tukem a poprašte troškou strouhanky. Brambory na hranolky dejte na dno pekáčku osolte a opepřete.
Na pánvičce rozehřejte trošku oleje a přidejte žampióny nakrájené na plátky a kmín. Orestujte je do chvíle kdy začnou trošku zlátnout. Pak přidejte nakrájená rajčata a promíchejte. Po chvíi přiklopte a duste asi 10 minut. Poté přidejte lžíci kečupu a trošku petrželové natě. Promíchejte a nechte jětě chvilku prohřát. Podle potřeby můžete přidat trošku vody. Konzistence směsi by měla být ala Katův šleh.
Zmrazené filé nechte povolit osolte a obalte v hladké mouce. Na rozpáleném oleji orestujte asi tak 3 min z každé strany, jen aby mouka začala zlátnout. Lépe je restovat postupně, filé nesmí pustit vodu a začít e dusit. Kdo koupil levné file s vysokým obsahem vody... je ztracenej. :-) Neškudlete a kupte Nowaco, vím proč to říkám!
Plátky filé položte na připravené brambory v pekáčku. Poté na filé a brambory rozprostřete připravenou směs a zlehka posypte strouhankou ( jan jako by jste cukovali malinká hrstička je až moc).
Pak už jen zbývá upéct v troubě. Já peču na plynu a většinou to vyjde na 30 - 35 min, ale radši si to ohlídejte, přeci jen nevaříme uhlířovo ryby.
Přidávám pro jistotu pár obrázků.