Články a reportáže
Datum: 11.09.2008
| |
Přečt.: 37607x
|
Hodn.: 2,55 z 5
|
Kom.: 1 660
|
Rub.:
Blbiny
Jak se domotat do Kralup?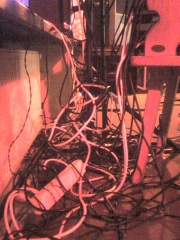 Něco o drátech
Muzikanti vědí o co jde, to je jisté. Už je v duchu slyším jak houfně volají "Zkuste to bez drátů!!!" po vzoru Járy Cimrmana.
Našim dědečkům se to hrávalo. Vzali tubu, harmoniku a klarinet a hned byl bigbít. Nemuseli stěhovat žádné bedny, příposlechy komba a jiné kraviny, které dneska tahá každej ať hraje na foukací harmoniku nebo bicí. Pamatuju si Honzu Rudolfa ještě hajícího ve Vomišti, jak na jakési folkové akci napočítal na jevišti ke dvaceti adaptérům. Prostě folkaři.
Což ono nanostit ty kvanta krámů na plac je ještě pohoda, ale potom je všechny propojit a potom zase rozpojit a smotat to je panečku dílo.
V B-Bandu jsme tři a taháme něco kolem 200 metrů kabelů. Za jediný rok je to rozmotat a smotat 10 kilometrů. To skoro smotáváme a rozmotáváme rychleji, než se staví dálnice.
Ještě že se nehraje každý den. To by jsme natáhli kabely až skoro do Kralup a potom je zase smotali. Až se mi z toho motá hlava, když si to představím.
Jenže muzikanti to naštěstí všechno berou s nadhledem. S boží trpělivostí večer rozmotají své gordické uzle, poskládají do svých milovaných kufříčků a hajdy na kutě. A za týden nebo třeba hned druhý den to celé opakují znovu.
Asi nejsou normální. To je jasný.