Články a reportáže
Datum: 15.01.2013
| |
Přečt.: 74527x
|
Hodn.: 2,33 z 5
|
Kom.: 806
|
Rub.:
Muzika

Trošku historie pro zvědavce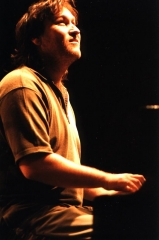 Tak jak to tedy bylo?
Na kytaru jsem začal hrát, když mi bylo 12 let. Tenkrát jsem neměl svojí a musel jsem jí tajně krást svému bráškovi. On byl ale velkorysý a dělal, že to nevidí. S tou kytarou jsem chodil každý den na zahradu a sedával na staré sedačce utržené z autobusu a hrál jsem. Byl tam nádherný výhled na celý Svádov, kde jsme bydleli a já si představoval, jak jednou budu hrát v kapele.    Cesta ke kapele vedla ale dlouhou oklikou.
    Na průmyslovce jsem s kamarádem Honzou Svobodou založili DUO HAM a napsali svoje první folkové písničky. Spolu jsme odehráli několik koncertů po  středních školách, internátech, vysokoškolském klubu Pedagogické Fakulty a taky okresní kolo  Porty v Ústí nad Labem v r. 1985. Byly to pionýrské doby se vším všudy, ale hrozně nás to bavilo a i lidem se to docela líbilo.
   Řízením osudu jsem jedno léto ve Starých Splavech potkal Tomáše Poláka, což poměrně významným způsobem následně ovlivnilo život několika lidem. Seznámení bylo o to kurióznější, že on měl sirky a já cigarety. Den na to jsme již s kytarou křižovali Máchovo jezero a to posléze dalo vziknout Hudebnímu společenství Martina Rychtaříka, které se pojmenovalo po mě, protože prý jsem byl nejznámější. Jednalo se o muzikantsko-ochotnický spolek, který se věnoval folkové muzice, legraci, amatérskému minidivadlu a boji proti bolševikovi. Zakládající byli tři písničkáři a konferenciér. Čili Standa Nikl, Michal Kučera, já a Tomáš Polák. Postupem doby se toto kvarteto rozšířilo ještě o Honzu Bělku, nynějšího basistu B-BANDU a mimochodem tvůrcem tohoto webu. S touto partou jsme vymysleli, napsali a secvičili několik klubových večerů, které se realizovaly v Ústeckém M-Klubu. Dnes je tam diskotéka, inu pokrok.
   K HSMR se úzce vázal tzv. CHVOST což byla větší parta příznivců, se kterými se podnikaly nejevištní akce. Je velká škoda, že se z tehdejších materiálů dochovalo tak málo. Dnes by pro mě měly velkou cenu. Možná si někteří vzpomenou na Polákovo ztvárnění Máchova Máje, či divadelní jednoaktovku Kdo nalodil místo mouky rum? z pera mého a Niklova. Z písniček zbyl Malý Londýn, který jsem po letech přearanžoval a nahrál na své CD V půli o mnoho let později.
   Po vojmě jsem chvíli fungoval jako písničkář a pak se ostěhoval do Písku. Tam jsem se spřátelil s partou muzikantů, kteří hráli country a později jsme založili skupinu CEJCH. S touto partou jsme odehráli řadu coutrybálů  a dokonce napsali i několik vlastních věcí. Písnička Tři z pěti psů v Písku takřka zlidověla. Cejch prošel po roce přerodem a nechybělo moc a mohla z nás být solidní bluegrassová kapelka, ale já se řízením osudu vrátil zpátky do Ústí nad Labem.
    Po návratu do "Malého Londýna"  jsem byl osloven již fungující skupinou PONY, abych zaskočil na baskytaru namísto Karla Odložila, který byl na operaci. Nakonec už jsem v PONY zůstal jako hráč na klávesy, na které jsem se naučil hrát právě v této kapele. Skupina hrála v obsazení Milan Manycz - el. kytara, Borek Filipec - el.kytara, Karel Odložil - baskytara, Petr Šístek - bicí a já na klávesy. Tak nám to fungovalo krásné dva roky. Potom se začaly dít věci.
    V roce 1995 jsem potkal Jardu Freddy Nováka a společně s ním Honzou Bělkou a Vlaďkou Skálovou jsme založili JUWEL FOLK. Seatava byla Jarda Novák - kytara, já - druhá kytara, Honza Bělka - baskytara a Vlaďka Skálová - zpěv. Tehdy jsme napůl s Járou napsali všechny písničky a začali objíždět festivaly a soutěže. Byli jsme docela úspěšní, protože se nám v roce 1996 podařilo postoupit do finále obou Port jak v Plzni, tak i v Ústí nad Labem. A tak jsme si v ústeckém Letním kině zahráli opravdu před velkým publikem. Také se nám ve spolupráci se zvukařem Láďou Veselým podařilo nahrát první demo a vznikla demo kazeta UBÝVÁ NÁM ČAS, kterou jsme množili a distribuovali sami. S odstupem času si myslím, že byla velká škoda, že tato sestava nevydržela, protože jsme měli opravu hezky našlápnuto. Po 15 letech jsme dokonce  dvakrát koncertovali v této staré sestavě.
    Po rozpadu této sestavy se JUWEL FOLK hodně změnil. Postupem času jsem zůstal z původních členů jen já. V kapele fungoval Honza Masojídek na kytaru, Jakub Masojídek na basu, moje tehdejší manželka Romana Rychtaříková jako zpěvačka, Jirka Holman jako bubeník a já co by kytarista a klávesista. V této sestavě jsme několikrát bojovali o Portu v Plzni a snažili se proniknout na Zahradu a ani jedno z toho se nám nikdy nepodařilo. Na zahradu jsme sice postoupili, ale ne na hlavní scénu a Portu jsme nikdy nedostali. Podařilo se nám ale objet velikánskou šňůru festivalů a klubů napříč celou republikou. V roce 2002 jsme v této sestavě u Jirky Maška ve studiu GOOD DAY RECORDS nahráli debutové album Všechno to... Štěstí se na nás usmálo v Rádiu Sever, kde byly písničky z tohoto CD vysílány denně a tak se některé, jako je třeba Psí Počasí nebo Trojský Kůň  mohly trošku dostat do povědomí posluchačů.  Kromě folku tato kapela fungovala zárověň jako zábavová kapela v identické sestavě a tak jsme odehráli velké množství zábav. Někdy se stávalo, že jsme rovnou z festivalu jeli na tancovačku. Kapela vydržela fungovat až do roku 2006. Pak jsem odešel a krátce na to se kapela definitivně rozpadla.
    Mezitím jsem s Jožkou Lomnickým založil zábavovou kapelku (původně duo) které jsme pojmenovali B-BAND. Do této sestavy přibyl nakonec i Honza Bělka na baskytaru a v této kapele hraji dodnes. Máme za sebou opravdu dlouhou šňůru zábav a akcí a musím říct, že je to opravdu velká pohoda hrát s klukama.
   Někdy od roku 2003 jsem začal s domácím nahráváním. Časem to došlo tak daleko, že jsem začal psát i pro jiné interprety. Ale je to trošku okrajová záležitost. Pro skupinu U-STYLE jsem napsal písničku Nezkoušej lhát, která vyhrála Děčínskou hitparádu, což mě docela potěšilo. Tato písniička byla ale napsaná pro dnes již neexistující soutěž Děčínská Kotva a k postupu do finále a vysílání v TV  pokud vím, jí chybělo jen málo. Škoda. 
   Jednou jsem na festivalu ve Františkových Lázních uslyšel hlas tehdy sedmnáctileté zpěvačky Anety Adamové. Její hlas mě natolik zaujal, že to vyústilo v písničku Tak se mě dotkni která se nakonec stala titulní na jejím CD. Písničku ve studiu přearanžoval a znovu nahrál Luboš Lauterbach.
     V domácím studiu nakonec vzniklo i moje nejmladší CD s Názvem V půli . Potěšilo mě, že písnička z tohoto CD, natočeného v 1+1 v paneláku, byla pravidelně slyšet opět v Českém Rozhlasu. Navíc to je písnička, kterou jsem napsal ještě v Písku. Jmenuje se Pátek, přítel Robinsonů. Inu i písničky zdá se mají své osudy.
    V letech 2012 - 2013 jsem aranžoval pro Hudebním spolkem Fénix z České Kamenice muzikál Jan Jessenius. Byla to hodně zajímavá práce, která mé domací studio vytížila na více než půl roku. Sestříhané písničky z reprízy tohoto muzikálu je možné si poslechnout i zde na těchto stránkách.
Od roku 2015 jsem začal alternovat kromě hraní ve skupině B-BAND také ve skupině MANE čili od té doby se mám co ohánět.
  Trošku se nám zmenšila sestava. Z kapely odešel letos (2016) Jožka Lomnický (klávesy). Bude nám chybět, ale jeho služební povinnosti ho dohnaly a také chce mít svůj klid, už také má naskákáno po jevišti za ty roky až až. Koneckonců byl nejstarší z nás. Ale děkuju mu za krásné muzikantské roky, které jsem měl tu čest s ním hrát. Čili postupně jsme se zmenšili na duo. Koneckonců přechod byl pozvolný a tedy žádné křeče. Tak to má být.
  B-BAND ukončil svojí činnost v roce 2021 a já se začal věnovat více hraní se skupinou MANE a taktéž ve kupině W-MUSIC. Rok 2022 je rokem vydání mé nové desky IMAGINARIUM na které jsem pracoval doma ve studiu bezmála dva roky.
    Co bude dál??
    Nechte se překvapit...... já s vámi..